Posted on Friday, October 11, 2019 by Admin C.L.
---
---
Posted on Sunday, September 22, 2019 by Admin C.L.
Offers 12 scholarships valued at $42 000 each and includes a research assistantship position and mentorship by one of Guelph's leading professors. Offered across the nation and recognize academic excellence, innovation, community and school engagement and leadership.
Required:
Submit an online application, letter fro the student applicant
biographical listing of the applicant's school and community engagement and leadership for the past three years
two letters of reference
official transcript
Website: https://admission.uoguelph.ca/topscholarships
Deadline: January 27, 2020
---
Posted on Saturday, September 21, 2019 by Admin C.L.
2020 Sessions application is officially open!
Take part in this life-changing experience.
The Forum Experience
A week that will change your life. Would you like to contribute to the future of your community and your country? Are you interested in decision-making and politics? Do you want to create relationships with people from different places? Forum is for you! Be a part of an incredible week behind the scenes of the world of federal politics on Parliament Hill. Make your voice heard during parliamentary simulations and develop unbreakable links with peers that share the same ideas and passions as you.
The 2020 sessions were as follows:
Sunday, February 9 to Friday, February 14, 2020
Sunday, March 1 to Friday, March 6, 2020
Sunday, March 22 to Friday, March 27, 2020
Application deadline: November 30, 2019 @ 5:00pm EST
Site: http://forum.ca/ 
---
Posted on Tuesday, September 10, 2019 by Admin C.L.
Students aged 14-17 who are interested in Canadian History and Vimy Ridge, please consider applying for the Vimy Pilgrimage Award. It is awarded to Canadian students who want to learn more about their nation's history where it happened! You get to attend a fully funded immersive educational program in Belgium and France!
For more information go to https://www.vimyfoundation.ca/programs/vimy-pilgrimage-award/ .
The deadline is: November 17, 2019.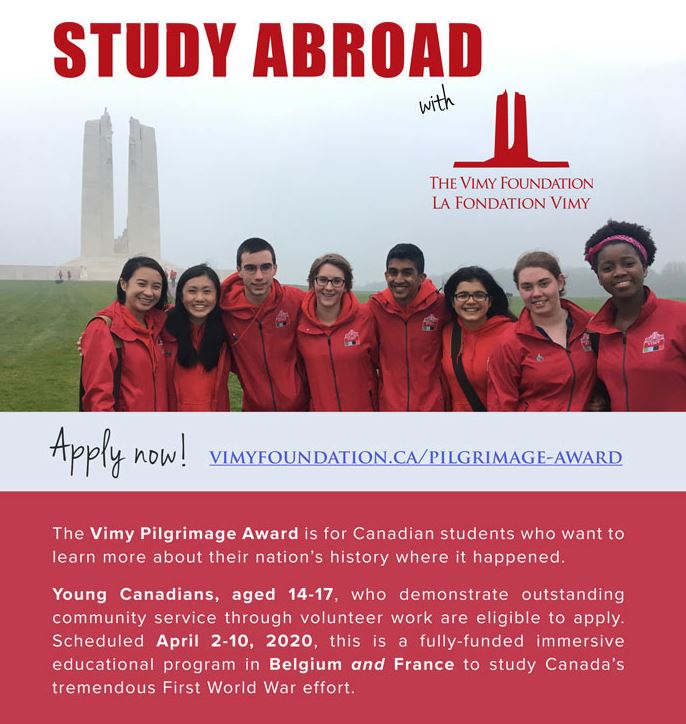 ---
Posted on Monday, September 9, 2019 by Admin C.L.
TUESDAY, SEPTEMBER 17 
at lunch in room 130!
Mandatory for any and all students who need or want assistance with scholarships.
Topics:
terminology
types of scholarships
how to approach scholarships
researching scholarships
short listing scholarships
letters of reference
scholarship packages
DEADLINES!
---
---
Posted on Friday, September 6, 2019 by Admin C.L.
DEADLINE IS NOVEMBER 15, 2019
How to apply for the TD Scholarship for Community Leadership
Each year it seems like the cost of post-secondary education keeps getting more expensive. You've saved some money, but you still don't think it'll be enough. Maybe you didn't spend your summers focused on making the most money, instead you created change. Then, there's good news. The TD Scholarships for Community Leadership may be what you're looking for.
What is it?
The TD Scholarship for Community Leadership awards students up to $70,000 for college or university (up to $10,000 for tuition per year, $7,500 a year for living expenses) for 4 years. It's open to students across Canada who:
Have demonstrated community leadership
Are in final year of high school or CEGEP (in Quebec)
Have a minimum overall grade average of 75% in their most recently completed school year
That's me! I want to apply!
If this is something you're excited about, then you should look out for applications starting in September. But here is the general process:
1. Write a 600-word essay (three copies) describing your community leadership experience.
Why you got involved
How your involvement shows initiative and innovation
The ways your efforts have strengthened others
How long you have been involved
What you think the long-term impact will be
How your community has affected you
2. Tell us about the other great things you're doing. Include a brief description of the range of your other community activities with:
A letter of recommendation from your school
Two letters of support from community groups
Your academic transcript
3. If you're really trying to impress, you also have the option of including:
A 250-word essay (three copies) describing your family and personal life, for example your family's employment or economic situation
A 250-word essay about your life experiences if you have taken a year or more away from high school or CEGEP
---
Character … Service … Leadership
Grade 12 students who are planning on entering university in 2018 can now apply for the Loran Award at the link below.  Please note that our application deadline is October 17, 2017 for all sponsored applications.  For all direct pool applicant the deadline is October 24, 2018.
For more information on criteria, FAQ, information on partnering schools and how to apply please go to:  http://www.loranscholar.ca/becoming-a-scholar/
2018-2019 Reference Copy – DRAFT
Website:  http://www.loranscholar.ca
---
---