SUTIL is pleased to invite students to attend our Grade 11 Virtual Career Fair. Here are the details for the fair:
Date: March 14, 2021
Time: 9:00 AM – 3:30 PM
Format: The fair will be hosted virtually through our sutil.ca platform. Students will have access to short presentations, which will be scheduled throughout the entire day in a rotation of concurrent sessions. Here is an example of the presentation rotation schedule, which will rotate for the entire day until 3:30 PM: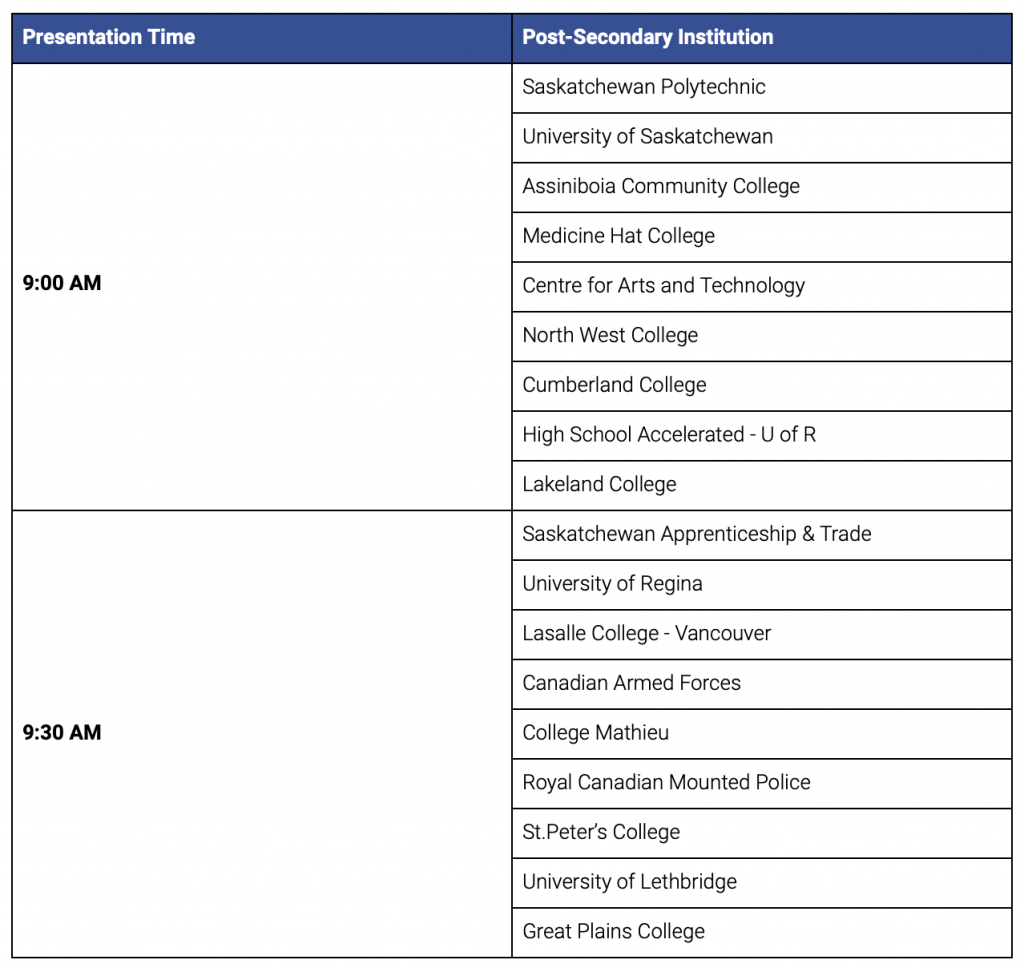 Presentation Length: 30 minutes total (15 minute presentation + 10 minutes for Q&A + 5 minutes to move to next session)
How to Join: Students can attend as a class or individually by visiting the sutil.ca website and clicking on the banner titled "Grade 11 Virtual Career Fair." This will connect them to a Google Doc that lists each presenter and the time they are presenting at (see example above). When they click on their institution of choice from the list, they will then immediately join that institutions' virtual meeting space.
Resources: SUTIL has created some resources to (a) assist with student engagement and (b) to help with event promotion. Please find attached this email the following resources:
List of Attending Post-Sec Institutions
Career Fair Poster
SUTIL Bingo Card – This is an optional tool that guidance counsellors and teachers could use to help promote engagement with and attendance of the fair. SUTIL is not providing prizes due to logistical constraints.
Please do not hesitate to reach out if you have any questions or concerns! Thank you for promoting this opportunity to your students!
This fair will allow students to have access to over 30 post-secondary institutions through a rotation of short presentations available all day long. The presentations will run for 30 minutes total, with time for questions at the end. We are hoping that this format will allow for students to have more access to the different institutions, as well as fit within their busy school schedule.